All-in-one marketing service in 3 channels
Google Ads | Microsoft Ads | Meta Ads
Set Global Goals, Achieve Desired Results

Define your global goals, including the expected cost of customer acquisition for specific product groups. Our team will optimize our activities to ensure we meet and exceed your desired outcomes. Let us help you achieve your targets effectively and efficiently.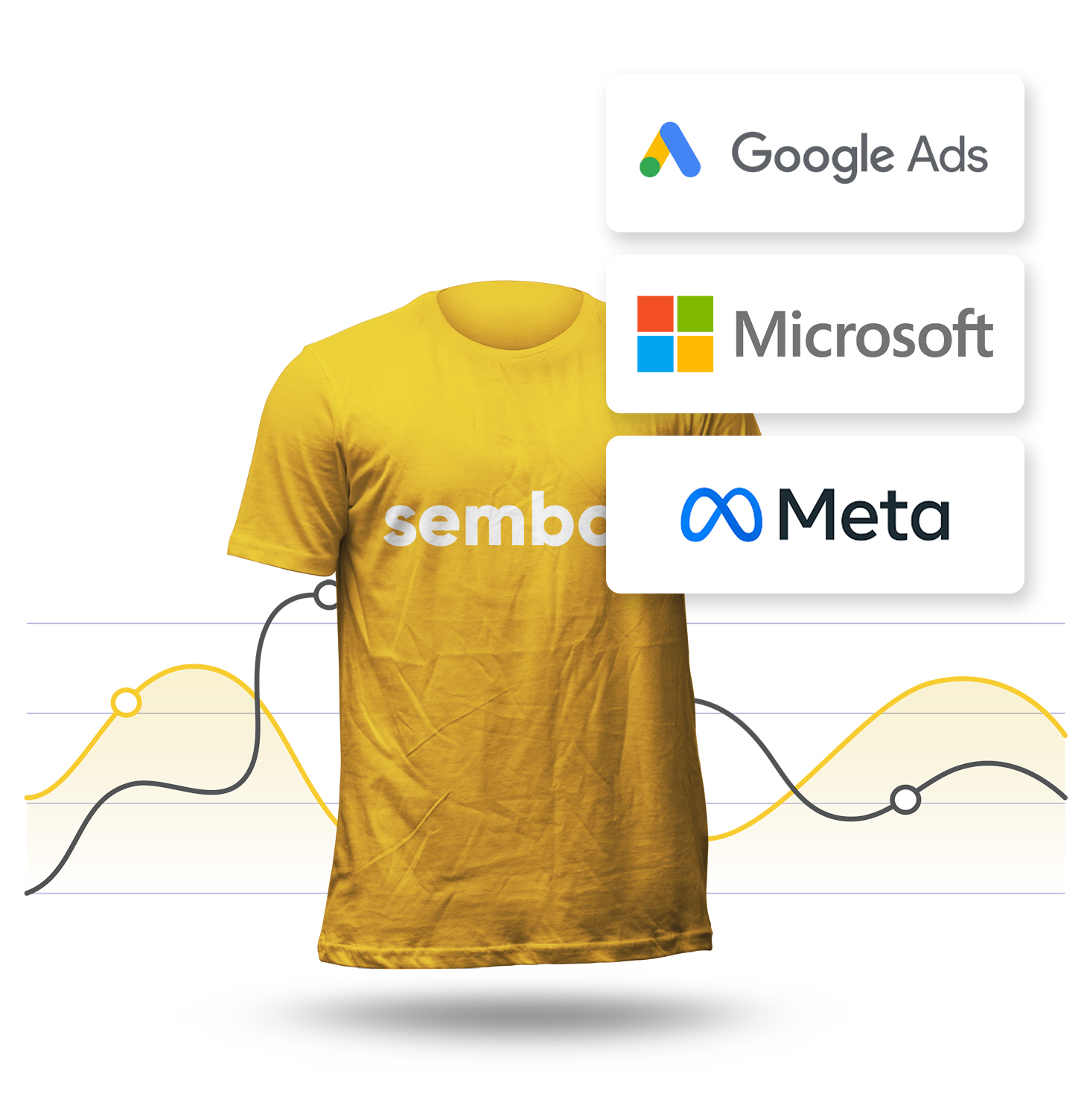 We have already been trusted by 1000+ e-commerce and over 200 performance agencies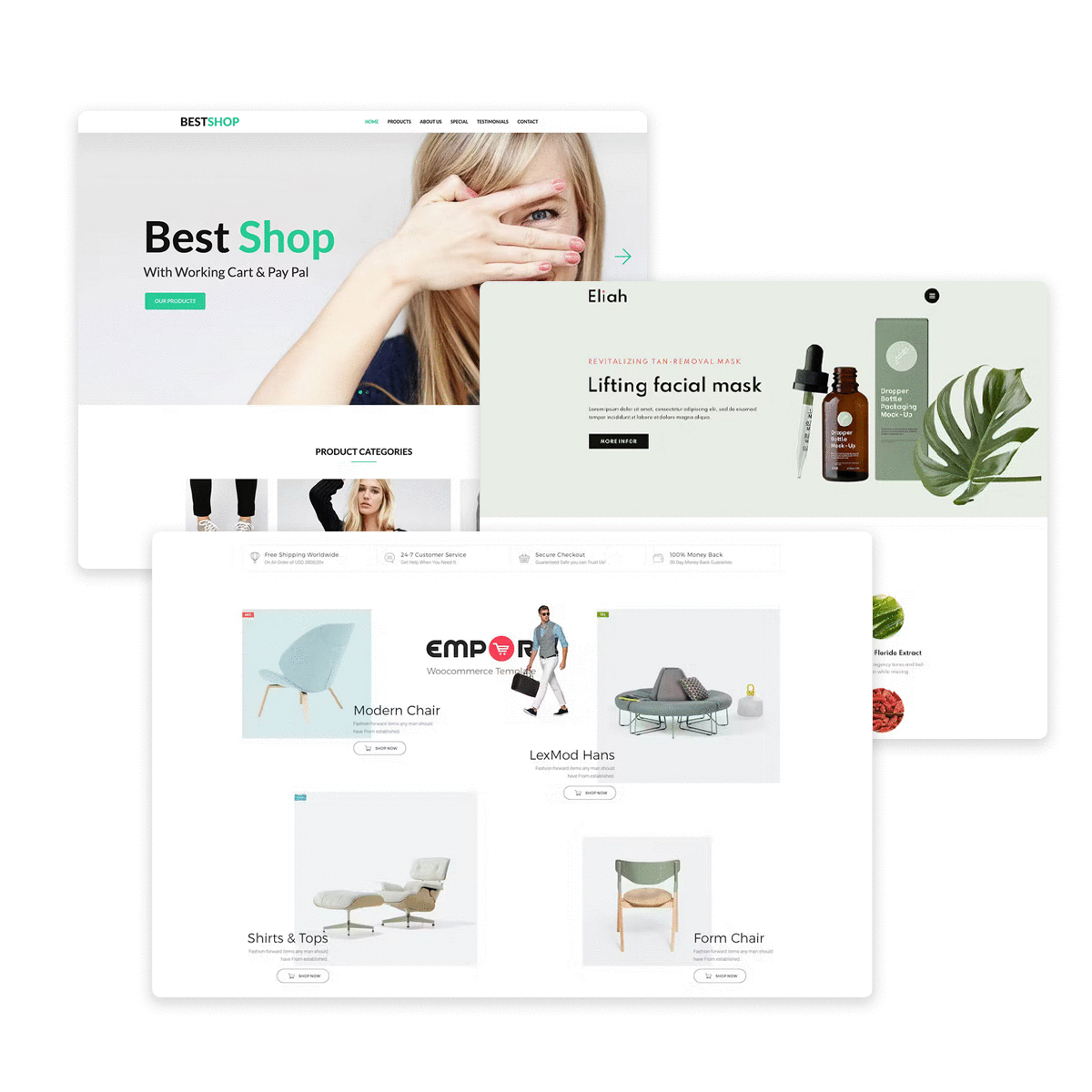 Introducing the "All-in-One" Service: The Perfect Solution for Small and Medium-Sized Online Store Owners

Experience the power of the "All-in-One" service, designed to cater to your every need and drive maximum profitability. With its proven marketing approach, this comprehensive tool is tailored specifically for owners of small and medium-sized online stores. Say goodbye to juggling multiple solutions and embrace the simplicity and effectiveness of the "All-in-One" service.
Who won't benefit from it?
Our Commitment to Transparency: The "As Is" Approach

At our core, we value transparency and honesty. That's why we proudly offer the "All-in-One" service based on a proven framework derived from our best practices. It's important to note that while this service is incredibly effective, it may not be the optimal choice for stores with constantly changing goals, individual task delegation, or high product turnover.

We believe in providing tailored solutions that align with your unique needs. If your store falls into any of these categories, we recommend exploring alternative options that better suit your specific requirements. Our goal is to ensure you find the perfect fit for your business objectives and achieve the best possible results.
It's Simple and Effective! The "All-in-One" Service for Effortless Advertising

With the "All-in-One" service, promoting your product catalog has never been easier. Say goodbye to overcomplicated and uneffective marketing strategies. Our comprehensive solution takes care of it all, allowing you to effortlessly attract customers and focus on growing your business. Simplify your advertising efforts and unlock the full potential of your product catalog with the "All-in-One" service.
Irrespective of whether your store generates annual revenues of up to €1 million or maintains a stable product range, the "All-in-One" service is tailored to meet your needs. It's a unique solution designed specifically for ambitious store owners and e-commerce managers like you, who strive for success.

Say goodbye to old-school and uneffective marketing methods. Embrace the efficiency of the "All-in-One" service. Uncover new opportunities for your store and boost your profit margin today! Don't wait any longer—choose the "All-in-One" service and take your business to new heights!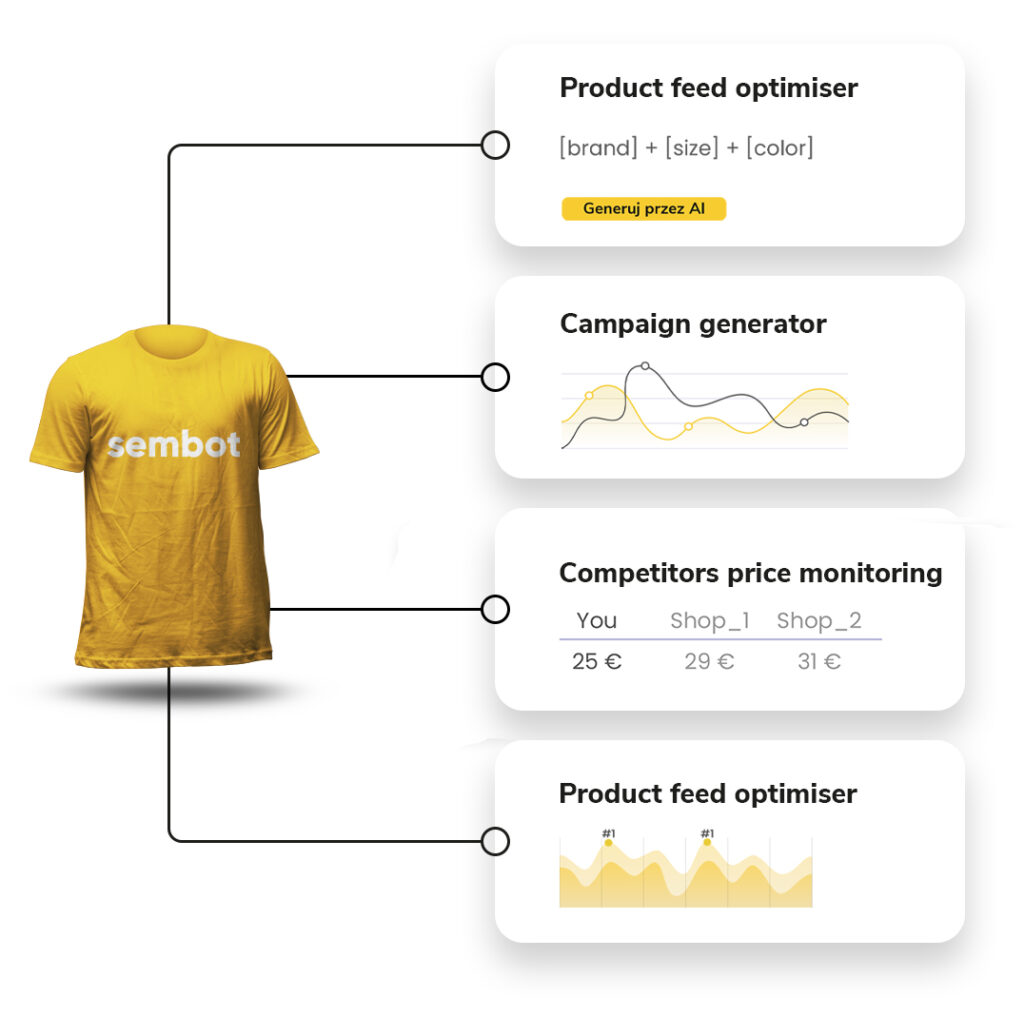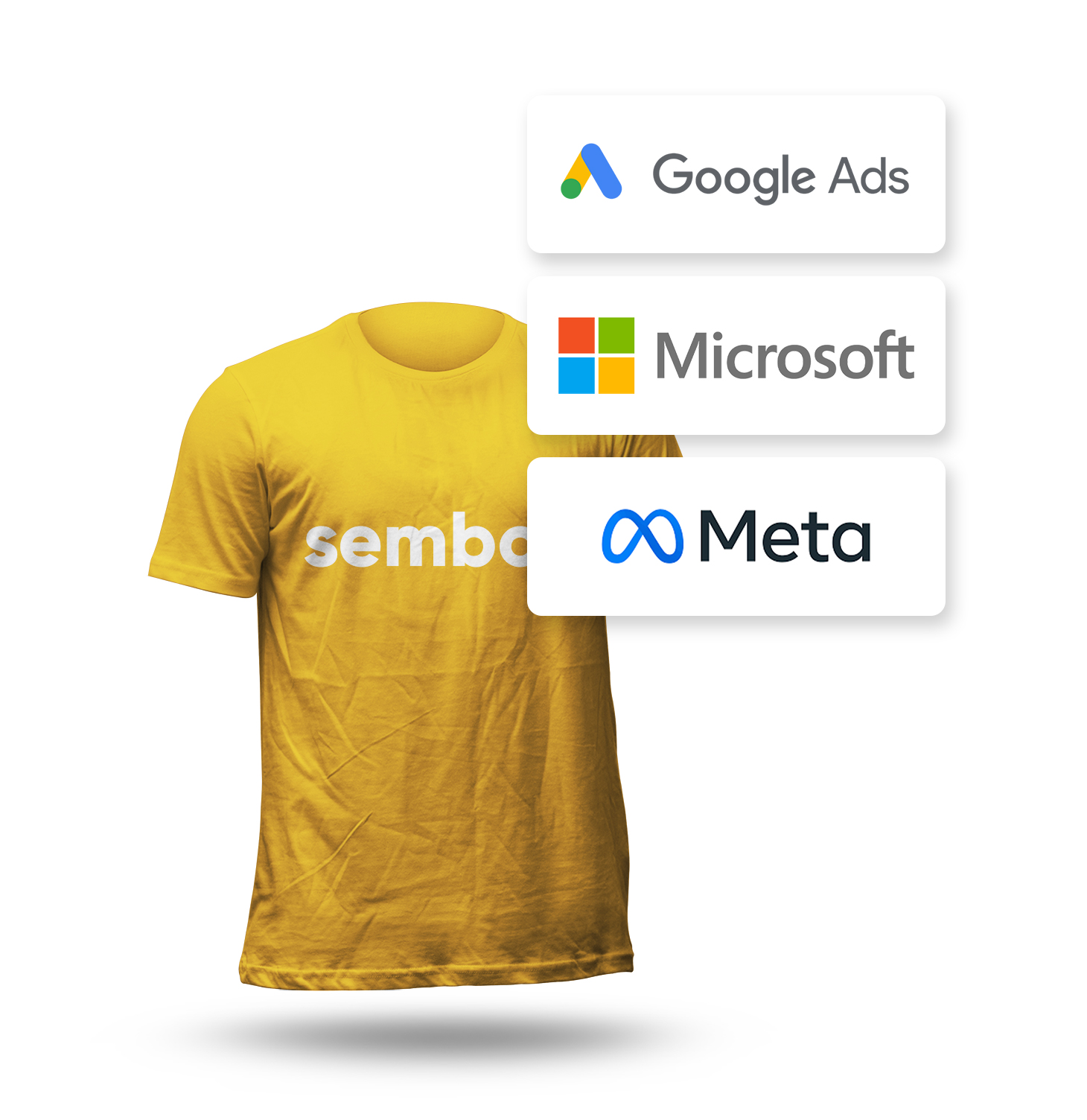 Unleash the Potential of the "All-in-One" Service
Unlock the full potential of your assortment with highly effective ad campaigns. Take control of your business by customizing margins and excluding specific products. Easy implementation through Sembot Suite. Drive success today!
But that's not all! Our team will continuously monitor your product offering, analyze market visibility and competition. You'll receive detailed reports on activities, results, and Sembot Suite-generated insights on price monitoring, product visibility in PLA and text ads, and Google search results. Stay informed and make data-driven decisions.
Discover how the "All-in-One" service, powered by Sembot Suite, can drive your business growth. Let us handle your advertising while you focus on what matters most - growing your store. Together, we'll achieve impressive sales results and gain a competitive edge in the market.
With just a few clicks, built-in rules, and AI support, your product feed becomes a solid foundation for effective advertising campaigns.
Having high-quality product feed data leads to improved ad quality ratings, resulting in lower costs and increased effectiveness.
By harnessing this power, we can create advanced campaign architectures that include Search, DSA, PLA, Performance Max, brand, and remarketing campaigns with extensive segmentation.
As the largest Microsoft Partner in Poland, we bring extensive expertise in advertising campaigns on the Bing search engine.
Bing users are highly engaged, exhibit a stronger inclination to purchase branded items, and have a higher average basket value compared to Google users. Although the volume is smaller than Google Ads, many industries still have untapped advertising space, resulting in impressive sales results and lower acquisition costs.
Microsoft Advertising campaigns within the Microsoft ecosystem allow you to target corporate users, office employees, and older demographics, as well as leverage the Audience Network based on LinkedIn targeting criteria.
The campaign structure and ad types resemble Google Ads settings. Our framework utilizes detailed campaign segmentation while providing full control over budgets and results.
Meta Ads for e-commerce is a vital channel for reaching and expanding sales.
Within the All-in-One service, we leverage Advantage+ for Shopping campaigns, utilizing the product catalog, and implementing Dynamic Product Ads for remarketing campaigns. These advanced advertising strategies enable us to target potential customers with highly relevant and personalized ads based on their browsing behavior and interests.
By combining the power of Meta Ads with our comprehensive suite of tools, we can maximize the visibility of your products and drive qualified traffic to your online store. This results in increased conversion rates and ultimately helps you scale your sales effectively.
As part of the "All-in-One" service:
We will optimise your product feed
We streamline campaign management by providing complete control over the product feed through the utilization of advanced scripts. This allows for simplified and efficient feed management, resulting in improved feed quality. As a result, you can expect enhanced performance, higher quality results, and reduced costs across platforms such as Google Ads, Meta Ads, and Microsoft Advertising.

With our expertise and innovative tools, we ensure that your advertising campaigns deliver optimal outcomes and drive maximum return on investment.
We will generate perfect product ads
We use the best methodologies and proven campaign architectures (SPAG, SKAG and others).

We generate granular campaigns for thousands of products in a few clicks (reducing ad setup time from days/weeks to a few minutes).
We will remove 20% of Google's margin
With our CSS (Comparison Shopping Service) solution, you can eliminate the Google Shopping margin, which can be as high as 20%. This advantage allows you to boost sales, increase click-through rates, or lower your advertising costs. By leveraging this feature, you can maximize the impact of your advertising campaigns and achieve better results while optimizing your budget. Experience the benefits of our CSS solution and unlock the full potential of your e-commerce business.
We will increase efficiency
Our powerful tools deliver quick and noticeable results. By optimizing your product feeds, you can reach a wider audience of potential buyers, increase conversion rates, and minimize wasted ad spend. Experience the immediate impact of our tools and witness the significant improvement in your advertising performance. Maximize your ROI and achieve better results with our proven solutions.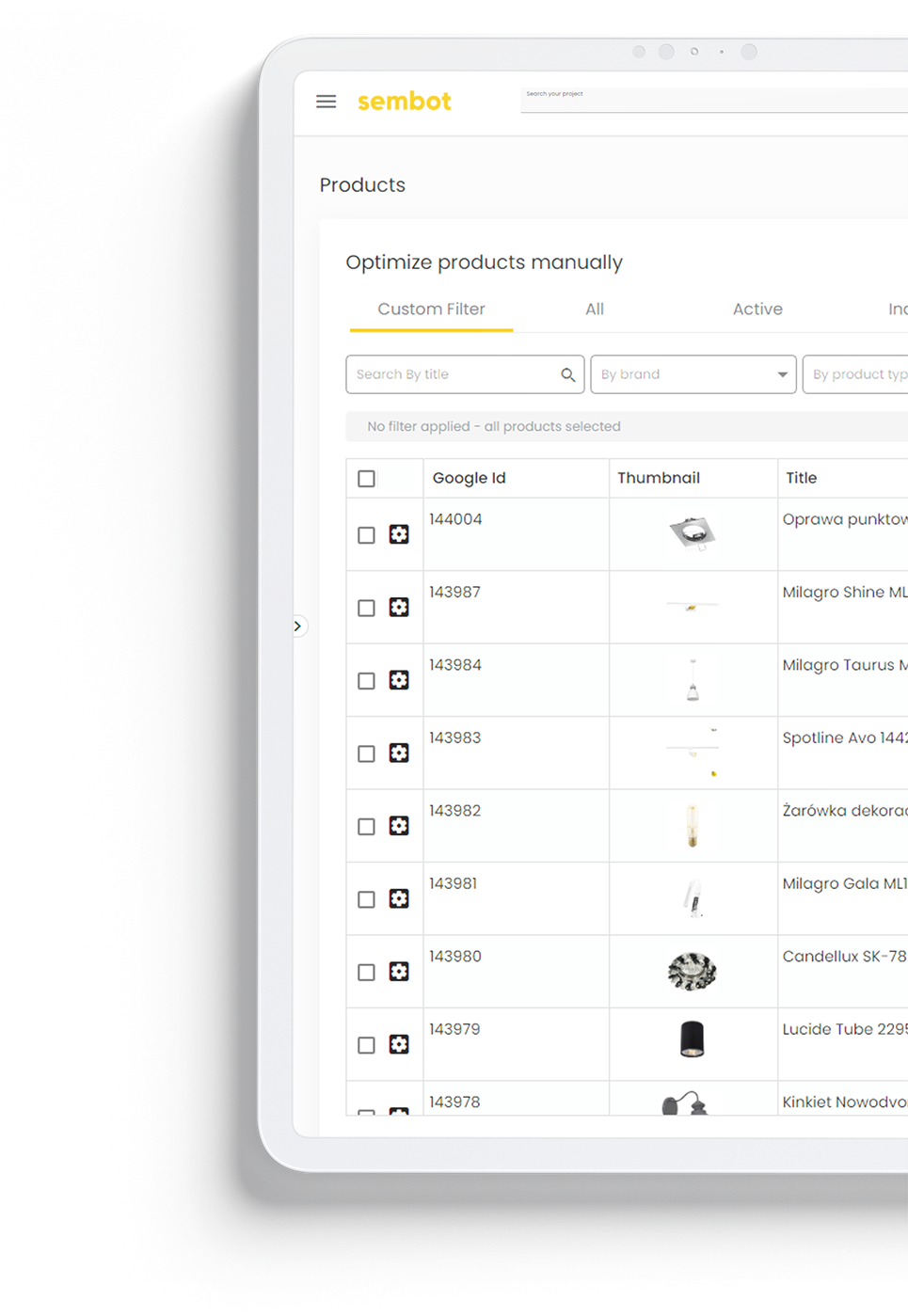 Technological advantage in performance marketing

With just a few clicks, combined with built-in rules and AI support, you can transform your product feed into an exceptional and high-quality foundation that significantly impacts the effectiveness of your advertising campaigns. Having high-quality product feed data translates to improved ad quality ratings, resulting in lower costs and increased campaign effectiveness.
As a result, you can save valuable time through the utilization of alerts and advanced manual or AI-driven rules.

Deep campaign segmentation delivers exceptional outcomes and empowers you with complete control over your budget and product priorities, taking into account crucial factors such as margin, effectiveness, category, brand, or any other relevant parameter. All of this is based on granular data at the individual product level, ensuring optimal campaign performance.
As a result, you can achieve effective management of your advertising budget, eliminate underperforming products, and amplify the visibility and performance of your best-converting bestsellers.

Competitors Price Monitoring
In rapidly changing markets, prices play a crucial role in influencing purchasing decisions across various e-commerce industries. With Sembot Suite, you gain the capability to track and monitor price changes and fluctuations over time, empowering you to make informed, data-driven decisions. Having real-time visibility into price dynamics enables you to respond swiftly to market trends and competitor pricing strategies. By effectively managing your pricing strategy, you can attract customers, drive sales, and maintain a competitive edge in the dynamic e-commerce landscape.
As a result, you can achieve flexible and immediate management of pricing policies for thousands of products, enabling you to make adjustments "on the spot" as needed.

Keywords, products and ads monitoring
Stay ahead of the competition by monitoring their paid campaigns, including their ads and products. With Sembot Suite, you can easily track the SERP (Search Engine Results Page) for your own products and take immediate action to optimize your product pages, resulting in improved ad rank quality scores and better overall campaign performance. Gain a competitive edge with real-time insights and data-driven decisions through Sembot Suite.
The outcome is the ability to make data-driven decisions on how to allocate advertising budgets effectively. With Sembot Suite, you can confidently distribute your advertising budgets based on accurate insights and ensure that your marketing efforts are focused on the channels that yield the best results.
AI-powered tools and advanced rules streamline your workflow. In a few clicks you will improve your feed and create deeply granulated campaign architectures for thousands of products.
Result: Instead of working on feed and advertising accounts for many hours, it will take you 5 minutes  to set-up a perfect campaign architecture.
Advertising platforms are moving towards automation and simplification, thus giving marketers less and less control. Thanks to Sembot Suite you have full control over every feed parameter.
The result: a perfect match of data for machine learning systems and ad platform algorithms, which means higher ad performance.
You have complete control over your product feed and campaigns, leveraging advanced manual rules, creative script support, and AI-powered query capabilities.
Result: Streamlined workflow and comprehensive analytical control, empowering you at the product level.
Managing the feed quality for thousands of products across multiple advertising platforms and marketplaces can be a daunting task. However, with Sembot Suite, you can automate the majority of these tedious tasks using advanced rules and AI capabilities.
The result: an impeccably optimized feed that serves as a strong foundation for your advertising campaigns. Achieve a perfect alignment with search phrases, resulting in an improved AdRank and ultimately reducing your CPC costs.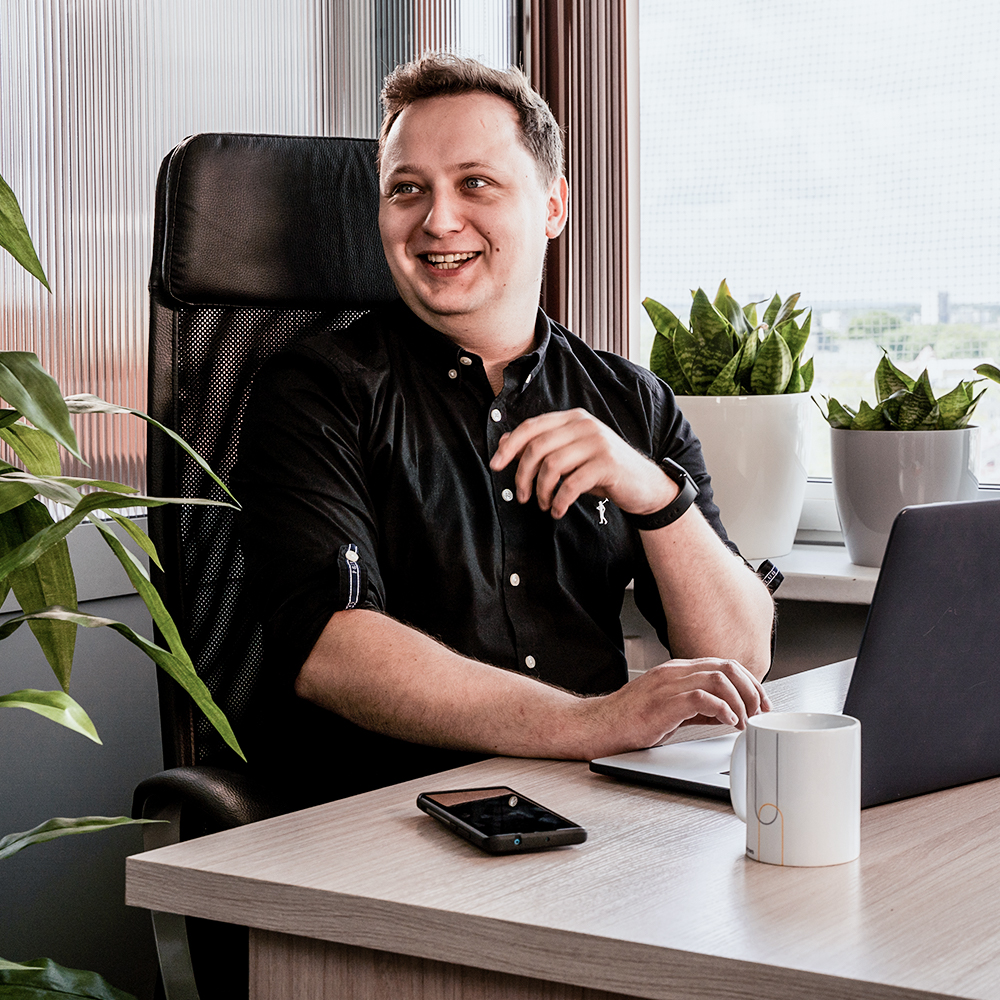 Sembot Suite tools. Feed and campaign management by Sembot Team experts.
* The prices provided do not include VAT
Impressive Results with Sembot Suite
Ready to Achieve These Results?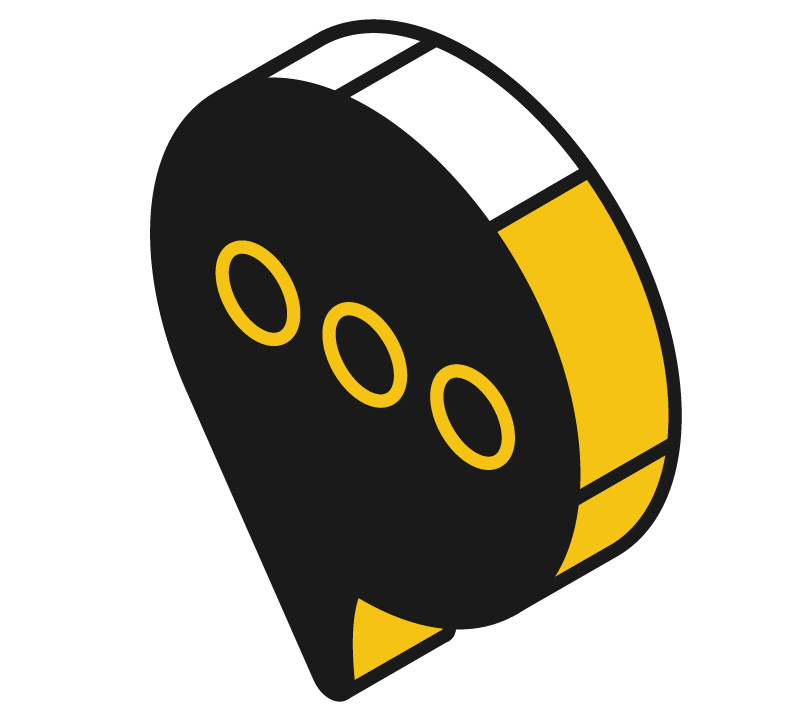 We're here to assist! If you have any inquiries regarding "All-in-One Service" or Sembot Suite, feel free to reach out to us.
By submitting the form, you consent to the processing of personal data in accordance with
the Privacy Policy.